Snow and Ice Management by Andrew's Lawn Service. Providing snow plowing, salt spreading, and sidewalk shoveling.
Winter in Kansas can be a beautiful and magical time, with snow-covered landscapes and icicles glistening in the sunshine. However, it can also bring challenges when it comes to snow and ice management.
Effective snow and ice management is important for safety, as slippery surfaces can cause accidents and injuries. It is also important for maintaining accessibility and mobility, ensuring that roads, sidewalks, and other public areas can be safely navigated by vehicles and pedestrians alike.
In Kansas, snow and ice management is typically the responsibility of local municipalities and transportation departments. These entities are responsible for plowing and salting roads, as well as maintaining sidewalks and other public walkways.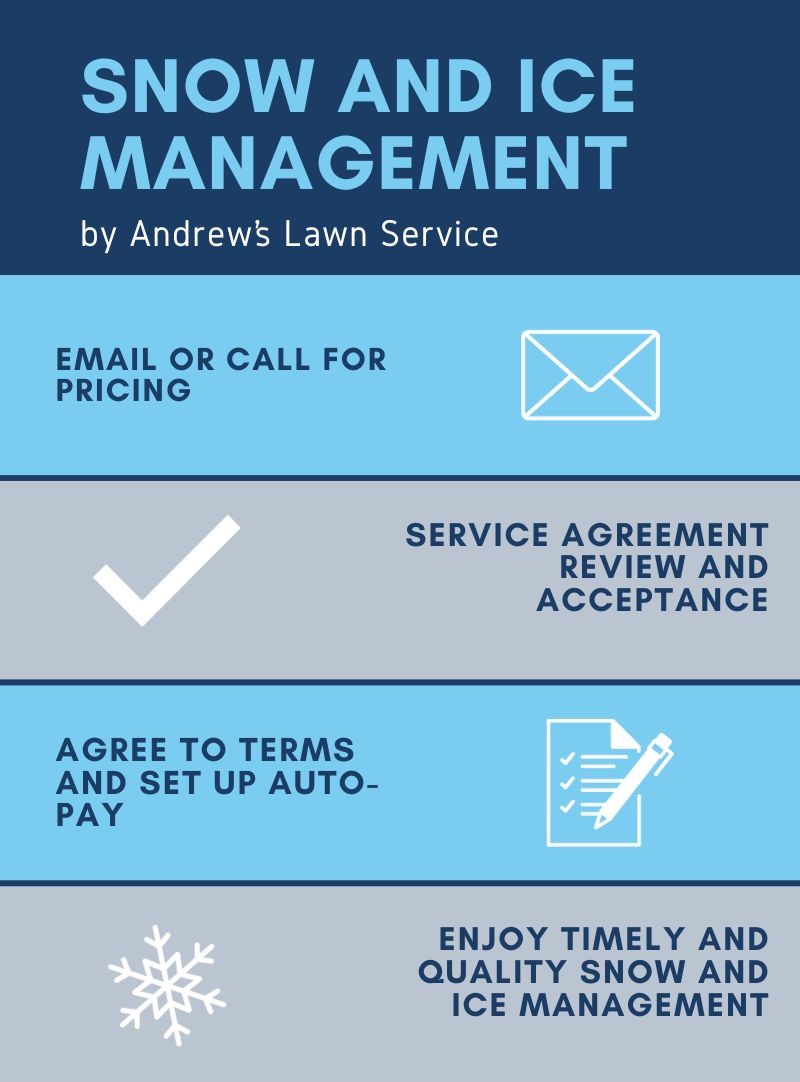 Don't get Caught in Winter without Andrew's Lawns
Individual property owners are also responsible for managing snow and ice on their own property, including driveways and sidewalks. This may involve shoveling, salting, or using other snow and ice removal techniques.
One important consideration for winter work is timing. Snow and ice should be cleared as soon as possible after a storm to prevent it from becoming compacted or turning into ice. In addition, it is important to continually monitor and manage snow and ice throughout the winter season, as weather conditions can change quickly.
Another important factor is safety. When clearing snow and ice, it is important to use proper techniques and equipment to prevent injury. This may include wearing appropriate clothing, using ergonomic shovels, and taking breaks as needed to prevent overexertion.
Overall, effective snow and ice management is essential for safety and accessibility during the winter season in Kansas. By working together, local municipalities and property owners can ensure that roads, sidewalks, and other public areas are clear and safe for everyone to use.

Our Core Beliefs
Honesty
Generosity
Respect
Patience
Kindness

Area's We Service
Overland Park
Prairie Village
Leawood
Stillwell